Clearwater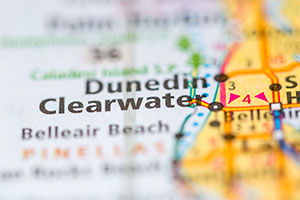 Clearwater is home to nearly 110,000 residents. That number rises an additional 20,000 persons every winter with the addition of snowbirds. Despite its population size, geographically it is fairly spread out and there are many pockets of diversity (some would say also unfairly targeted). Wanting to be seen as a home-y type community (which it is in many respects), it has a history of being difficult on visitors and citizens alike. One of its most famous former residents was Jim Morrison of the Doors. Of course, Florida loved him so much that he got arrested (in South Florida). Tourists and locals alike enjoy the many musical events and Blues and Jazz festivals. It is also one of the prime locations for spring breakers every year. The city started off as a beach community incorporated in 1915, and the throngs of visitors every year can attest to its beautiful beaches.
However, getting a traffic infraction, a criminal traffic charge such as DUI, any assorted misdemeanor, or even a felony is taken very seriously in Clearwater. Although beautiful, the police are often aggressive even in minor crimes, as I can attest to by the many out of state visitors who get into trouble on their heavily patrolled beaches. As the second largest city in Pinellas county, the police often feel they have to prove something in every case to appear tough on crime. They maintain their own police department and have resisted efforts by the Pinellas sheriff to take over their jurisdiction. In other words, they will do what it takes to jealously guard their "turf."
Being a Pinellas Criminal Lawyer for 20 years, in addition to the crimes one expects to see, I have noticed that they are very aggressive in using traffic laws as a convenient excuse to pull someone over. (I should also note that Clearwater is STILL one of the few cities left in Pinellas county to continue what are arguably the unconstitutional red light cameras). When pulling someone over, often times the first thing they look for, no matter the time of day, is whether or not a person is driving intoxicated. Unfortunately, many people who may have drank alcohol but are not intoxicated are pulled into this. When combined with the confusing field sobriety tests, many innocent people get arrested for DUI, or other criminal traffic offenses.
Because of my experience, I can tell you the unique way that Pinellas county handles traffic infractions and criminal traffic cases. For example, traffic infractions in Clearwater will always go to the North County judge, unless you request a magistrate, which you should never do in Pinellas county. I can often talk to the judge before the hearing and work out a resolution that satisfies all parties. Furthermore, because criminal traffic cases usually (but not always especially if you requested a public defender) go to that one judge, I have the experience to know how to deal with the judge(s) that handle those Clearwater cases which can sometimes result in amendments to non-criminal charges or possibly dismissal. Of course, every case is different and no attorney can make guarantees, but my promise to you is that I will fight for you every time, as can be seen by my many happy clients and record.
Every criminal case from the lowest traffic offense to the most serious felonies, the Clearwater police are known for pushing tough penalties. This is one reason we believe it is important to have an attorney early on in your case to stand up to these often aggressive prosecution of anything you are charged with.