Wills, Trusts, & Estate Planning
Florida Wills, Trusts, and Estate Planning Attorney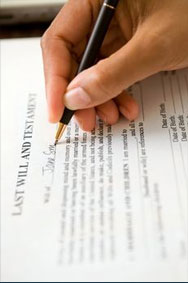 Solid estate planning is a key element to helping anyone achieve their life goals and enjoy a secure future, no matter how simple or how complex their affairs may be. Everyone we work with has his or her own individual situation, needs and goals. As a St. Petersburg, Wills, Trusts, and Estate Lawyer , our job is to make sure we translate those into a strong estate plan that protects your loved ones, allows you peace of mind and carries on your legacy.
Whether you are a family with young children, you need short-term planning advice, you are retiring, or you are going through a life transition such as a career change or a change in marital or family status, the St. Petersburg, Florida, law office of Craig Epifanio, P.A., can help you achieve your estate planning goals.
Wills and Trusts Answers and Solutions. Call (727) 528-1859 to arrange for your free initial consultation about your legal matter. Contact us online.
As a St. Petersburg Wills, Trusts, and Estates Lawyer, Mr. Epifanio works with individuals and families of all ages whose plans may change or to secure their present life situation. There are many events which necessitate review of your estate planning. For example, a change in your marital status is a very common reason to review your goals. Of course, having a child is a major life change where one should look at their plans. In fact, any threat to your wellbeing or your health is reason enough to do something about creating a will, or other estate plan. There are other reasons to create an estate plan that may not be as obvious though. In this world of less job stability, some people enter professions or jobs that are dangerous. While no one wants to think about the worse, the earlier you plan the better it is for you and your family. On the other hand, if you accumulate significant assets, it is crucial that you look at all estate planning needs including wills, power of attorneys, and financial advice (from a proper advisor). Whatever your estate status, Craig Epifanio, P.A., will take the time to really get to know you, your situation, and your goals and desires. We ask questions and we listen to your answers in order to develop a will, trust and/or estate plan that matches your needs.
Is a Form Will Sufficient or Legal in Florida?
The answer to that question is "maybe not." However, when it comes to estate planning, any small amount of money you save can potentially cost you a lot of money when it comes time to probate the estate. Very recently, the Fla. Supreme Court weighed in on "form" wills that were not done by an attorney, in the case of J ames Michael Aldrich v. Laurie Basile, et. al. Although the decedent had properly executed the will, the form will did not specify how the property should be divided. She even added a handwritten note as an addendum indicating who should get the property. The Supreme Court however ruled that the document was not enforceable. Thus, the intent of the person who created the will was not carried out partially due to using a "form" will. This concrete example is one of many reasons, one should avoid using form wills that you can get on the internet and elsewhere. There is no substitute for having an attorney prepare and review all estate planning documents with you in person to not only give you peace of mind, but also so that your true intent is carried out. While these types of form documents are undoubtedly used to save money, as the Supreme Court noted, it instead wound up in costly litigation. Do not let this happen to you and allow us to make sure your final wishes are carried out.
Alternative Lifestyle Estate Planning
We help gay and lesbian clients interested in estate planning tools such as their wills, trusts, health care surrogates, and power of attorneys. Certain documents can ensure you and your partner have legal rights to make healthcare decisions, manage financial affairs, and ensure property and assets are distributed to your partner. If a person in Florida dies without a will, property and assets will be distributed to biological family members — not to his or her partner. We can establish directives to ensure your assets are distributed according to your wishes.
Building Relationships and Building Wealth
We do not look at you as a case but as an individual with needs and goals who has a right to thorough, timely and responsive client service. Since 1997, we have helped a significant number of clients develop estate plans that include:
Wills
Trusts, including special needs trusts, revocable and irrevocable trusts
Living wills
Powers of attorney
Healthcare surrogates
Probate
Let a Wills, Trusts and Estate Planning Lawyer Answer Your Questions
Call our law office at (727) 528-1859 or reach us online to arrange a free initial consultation. We work with clients throughout Pinellas County, Hillsborough County, Manatee County, Pasco County and Sarasota County, Florida.