Saint Petersburg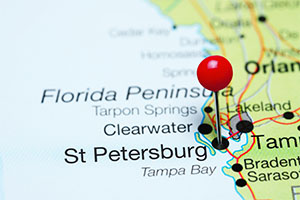 Saint Petersburg, or as most locals call it St. Pete, is the largest city in Pinellas county with a quarter of a million residents making it their full time home. Because for many years there was no space left for the city to grow, the downtown area of St. Pete has boomed and with apartment and condo construction there, I expect the population to continue to grow at a brisker pace than before. St. Pete is known for many things, such as the first ever scheduled airline service (actually across Tampa Bay itself). Before the arrival of the Tampa Bay Rays, the city was one of the main hubs of spring training baseball, most notably the St. Louis Cardinals. Once thought of as "God's waiting room," St. Petersburg has become the social hub of the whole Tampa Bay area, with residents of all ages, especially Millenials. With its bustling downtown filling with new restaurants and clubs showing up everywhere in the city, even outside downtown, it is clear that St. Pete has now become the place to be in the Tampa Bay area. Of course, with more people, it can lead to more problems and thus more police enforcement.
As a St. Pete resident myself, I see the presence of police everywhere. While I appreciate their service and keeping our citizens safe, unfortunately some officers will be very aggressive in enforcing the laws. This is especially true in what the police see (but many residents including myself don't see) as "problem areas" where patrols are stepped up. In other words, being in the wrong place at the wrong time in St. Pete will often lead to your arrest despite your innocence. The St. Petersburg police are not immune to scandal, but having cross examined many of them through the years, there are honorable officers in their service. It is, unfortunately, the occasional "bad egg" that causes problems for those arrested and even causes problems for prosecutors due to being forced to question the credibility of their often star witness to a case. This does not make them infallible though. They often present themselves to the court very well, but during vigorous cross-examinations, I have found there to be not only weaknesses in their cases, but sometimes half-truths, or other methods of avoidance in seeking a just result. Even if it is not an officer, in a DUI case, for example, I can challenge the breath testing machines. St. Pete is one of the few cities in Pinellas county with their own Breath Testing Machine and if there are problems with its maintenance or other issues related to any machine prone to being inaccurate, I can fight the case to achieve a favorable result. This is where my 20 years of experience can help you.
In addition to the vigorous enforcement of felonies and misdemeanors when a person is out or even in their homes, St. Pete will use traffic infractions and criminal traffic charges sometimes as a pretext to stop someone to find evidence of a crime. While felonies and misdemeanors will go to the main Criminal Complex on 49th Street in Clearwater, traffic charges are brought before the judge in South County Traffic Court near Tyrone. One way that having a Pinellas Criminal attorney help in these situations is that I am usually able to talk to the judge's office in advance in order to get a speedy resolution on traffic infraction matters, or as a way to address criminal traffic matters that I may be able to get amended or dismissed in certain circumstances.
Call my office today for a free consultation and we can discuss ways to fight the charges that the St. Petersburg police have put on you.